Regular price
Sale price
$74.00
Unit price
per
Sale
Sold out
Get ready for a smile makeover with Ivory Teeth Whitening! Our advanced kit brings you the latest in teeth whitening technology.
Achieve a Brighter Smile in Only 16 Minutes

 – Whether for a Big Event or a Spontaneous Confidence Upgrade.
What's included: 

Includes 3 whitening pens for (15-25) whitening treatments per kit.

Includes bonus primer pen to enhance your results.
Comes with our wireless dual color mode Led mouthpiece with red and blue light spectrums.
Full Instruction guide with easy to use steps.
Shade guide to track your progress
Magnetic USB fast charger
Key Features:
Our whitening brush tips help with precise application and saves gel compared to syringes. 

Our PAP gel is specially designed for sensitive teeth and a gentle whitening routine.

Key ingredients like Hydroxyapatite mineral added to help strengthen and repair teeth.

Comes with wireless and waterproof led mouthpiece that can be washed to keep clean.

16 min treatment led time with built in timer for the perfect amount of whitening.
View full details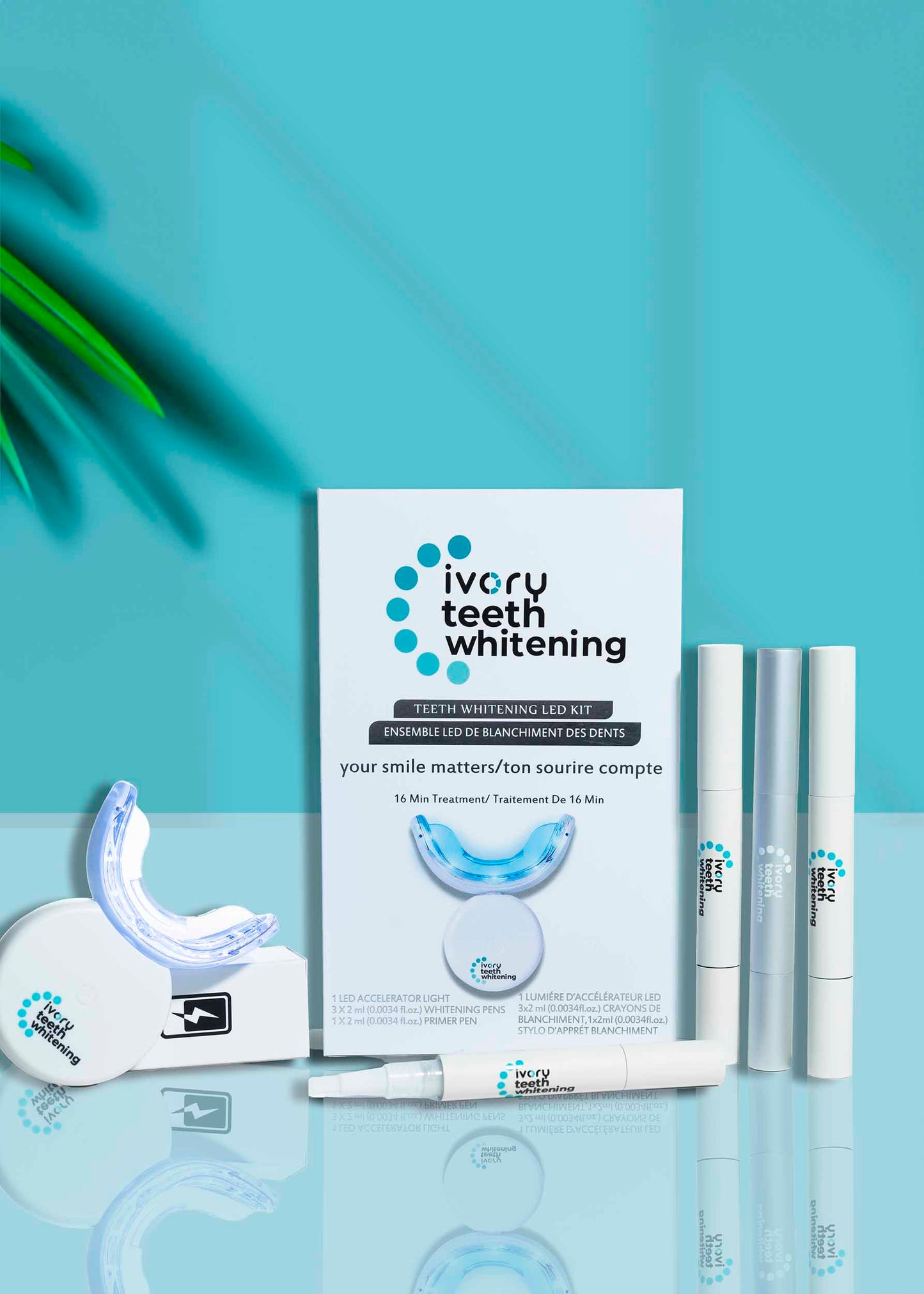 The Ivory Teeth Whitening Kit was designed to effortlessly erase a variety of everyday stains, including: 
Coffee and Tea Lovers' Stains: Wave goodbye to those pesky brown marks left by your favorite morning brews.
Red Wine Remnants: Enjoy your wine without worrying about the staining aftermath on your teeth.
Tobacco and Smoking Stains: Reclaim a fresher, brighter smile by banishing the effects of smoking.
Deliciously Dark Food Stains: Say farewell to discoloration caused by rich sauces, berries, and hearty meals.
Age-Related Yellowing: Turn back the clock on aging teeth, restoring a youthful and vibrant appearance.
Cola and Soda Residue: Eliminate the evidence of your soda indulgence, leaving only a brilliantly white smile.
Natural Wear and Tear: Combat the effects of time and wear, revealing the beautiful smile you've always had.
Introducing our revolutionary teeth whitening pens.
Experience the ultimate in convenience with our paint-on brush tips, making application a breeze. Say goodbye to complicated processes – achieving a brighter, more confident smile has never been this effortless.
With our Ivory Teeth Whitening Kit, you can confidently face the world, knowing that your smile is free from these common stains. Say hello to a radiant, stain-free smile that truly reflects your inner confidence!